News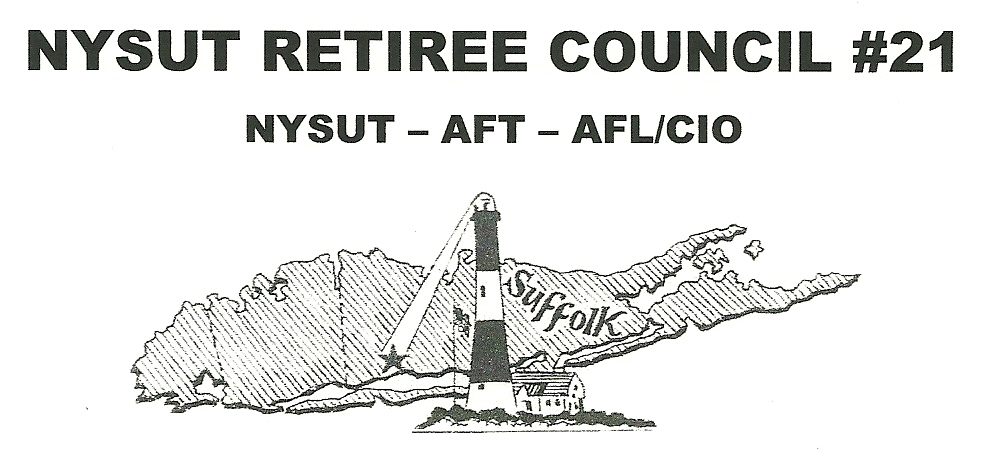 Health Care Reform Timeline
The Health Care Reform bill passed by Congress and signed into law by the President will take effect in stages between now and the year 2018.
Attached is a point-by-point, year-by-year breakdown of the implementation schedule for the new Health Care Reform law. 
Dorothy Zuckerman, our NYSUT Retiree Service Consutant, has forwarded information about the new health care reform and how it relates to us...
more
HEALTH CARE REFORM for AMERICAN WOMEN
Seniors are concerned about how health care reform will affect Medicare...
more
Trips and Tours et al....
CHECK OUR EVENTS PAGE!!!!!
Find out details about the exciting trips, tours and activities being planned by your Benefits Committee for Members of Retiree Council 21.
Not surprisingly, AFT members along the Eastern Seaboard felt the impact of Hurricane Sandy—both professionally and personally. The storm and its aftermath highlighted the essential services provided by educators, state workers, healthcare professionals and other public employees. Many of these workers stepped up to help with the rescue and relief efforts. In some cases, these employees mounted heroic efforts in the face of very difficult circumstances.
more
Hundreds of AFT members and staff took part in a "Day of Action" on Nov. 11 to help with Superstorm Sandy relief efforts. AFT members from Connecticut, Maryland and Pennsylvania traveled by bus to New York to volunteer with members of the United Federation of Teachers to distribute much-needed supplies, food and clothing to members in affected areas throughout parts of New York.
more
The nation has just celebrated Labor Day, yet few Americans have any idea why. A new report on how the history of labor is treated in high school history textbooks offers an explanation—most Americans never got any education about the labor movement's proper place in our country's history and its many contributions to the nation's development.
more
The AFT and Britain's TES Connect have come together to create "Share My Lesson," a new digital platform for U.S. educators to collaborate and share teaching resources and innovative ideas, with a significant emphasis on resources to guide teachers in implementing the new Common Core State Standards. The site is live, and teachers are already registering and sharing their best ideas with colleagues around the country.
more